Special Summer Offer:

4 for 3 —
Buy any 4 items,
get the lowest priced item FREE!
· For a limited time only!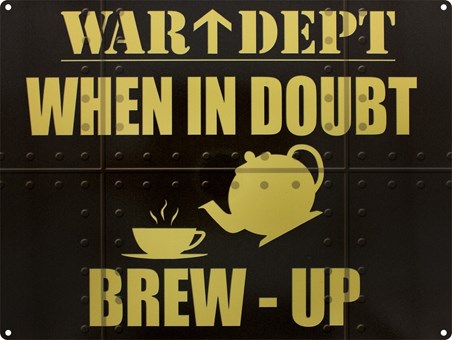 40cm x 30cm (16" x 12") Tin Sign
Humorous Tin Sign: When the going gets tough, the tough get brewing! This excellent tin sign is a must have for anyone who believes that a nice cup of tea can solve all of life's little problems. In the style of a retro war sign, it says 'War Dept; When in doubt, brew up' with a simple picture of a teapot and a nice steaming cup of tea. This is the perfect sign for your kitchen or anywhere in your home where you like to kick back and have a brew. Whether you like it strong, weak, black, white, green, herbal, sweet or sugar free, this tin sign will assure you that there is nothing in life so disastrous that it can't be solved with a cup of tea.
StockID: 13657
Price: £12.99
In stock
Ships within 24 hours
Customers Who Bought This Item Also Bought