It's Not The Size of Your Putter
A Women's View on Golf Tin Sign, 30cm x 40cm View all Tin Signs…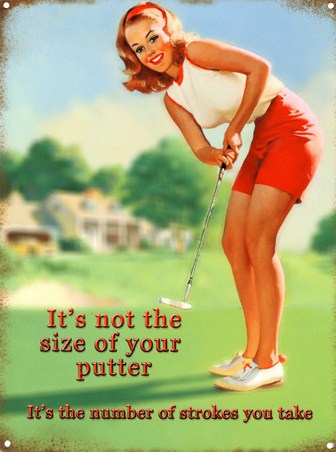 30cm x 40cm (12" x 16") Tin Sign
Humour Tin Sign: If you are looking for a cheeky tin sign for your wall then why not hang this piece of golfing innuendo in your home to guarantee some giggles. Featuring a 1940's twenty something as she stands on the putting green with her club in hand, she muses "It's not the size of your putter, It's the number of strokes you take" as she bends over, eyeing up the target. This cheeky tin sign is a must have for keep golfers and anyone who can't resist a bit of innuendo to brighten up their home.
StockID: 17115
Price: £9.99
In stock
Ships within 24 hours
Customers Who Bought This Item Also Bought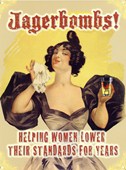 Helping Women Lower Their Standards, Jagerbombs
Tin Sign
30cm x 40cm
£9.99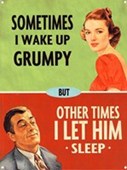 Sometimes I Wake Up Grumpy
But Sometimes...
Tin Sign
30cm x 40cm
£9.99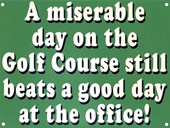 A Day on the Golf Course
Better Than Work
Tin Sign
40cm x 30cm
£9.99