Special Summer Offer:

4 for 3 —
Buy any 4 items,
get the lowest priced item FREE!
· For a limited time only!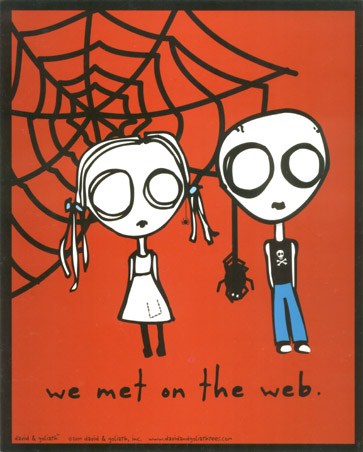 20.5cm x 25.5cm (8" x 10") Poster Card
Matted Card Print: Designed by the brains behind the massive clothing and accessories company, David and Goliath, Evelyn Lebowitz, also known as Eve L, is the typical solitary, gothic teenager who never smiles and always prefers her own company. That is apart from in this little print! She has met a boy who is just at gothic and lonely as she is and they met on the web (the spider web by the looks of it). This cute matted print shows the complex story of young love and a mutual need to be alone. Will their love blossom or will it wilt like the flowers on Eve L's windowsill?
StockID: 5256
Customers Who Bought This Item Also Bought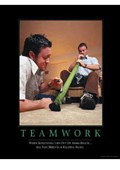 Bongtastic; When a Friend in Need..., Bong -Teamwork
Poster Card
20cm x 25.5cm
£1.00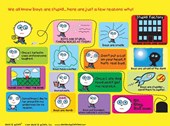 Boys Are Stupid Collage
Boys Are Stupid
Poster Card
25.5cm x 20cm
£1.00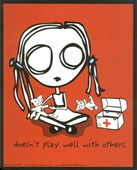 Doesn't play well with others
Eve L
Poster Card
20.5cm x 25.5cm
£1.00