20%
OFF!
Mob Boss Vito Corleone with Cat
The Godfather Door Poster, 53cm x 158cm View all Posters…

53cm x 158cm (21" x 62") Door Poster
Film Poster: Vito Corleone is one of the best roles Marlon Brando played in his life; Directed by Francis Ford Coppola and also starring Al Pacino as his son Michael Corleone, The Godfather received 3 Oscar's in 1972; Brando refused to accept his award and never showed up at the ceremony. Coppola also made The Godfather part II and III, in the second film Robert deNiro plays the role of a younger Vito Corleone.
StockID: 3609
Customers Who Bought This Item Also Bought

Vincent Vega and Jules Winnfield, Quentin Tarantino's Pulp Fiction
Panoramic Poster
158cm x 53cm
£5.99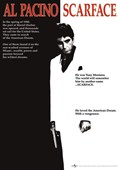 Scarface Movie Score
Al Pacino - Scarface
Poster
61cm x 91.5cm
£3.99