15cm x 21cm (6" x 8") Tin Sign
Advertising Art Tin Sign: All you men out there - do you remember reaching for the razor for the first time and slathering all that shaving foam on your face in preparation for your first shave as a man!? Well chances are that the brand you slathered on your face was Colgate. This New York based soap and candle makers formed in 1806 and quickly developed into a household name which has grown from strength to strength. This fantastic tin sign features the design from a vintage advertising poster, showing this young lad using Colgate's Shaving Soap to try out his first 'cut throat' razor shave. This tin sign would make a delightful addition to anybody's bathroom and will transport you back to a time when life was so much simpler.
Price: £5.25
Out of Stock
Sorry, this product is temporarily out of stock. To be notified when available email
contact@popartuk.com
Customers Who Bought This Item Also Bought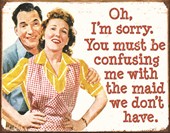 Sorry Maid!
Retro Humour
Tin Sign
41.5cm x 32cm
£12.99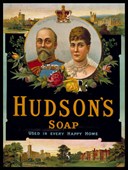 Used in Every Happy Home
Hudson's Soap
Tin Sign
30cm x 40cm
£9.99